You've built your React Native app, now it's time to send it to production. You've probably got a few critical goals
Make sure that no matter where the user is, the app works
Get the app into my user's hands
Don't break the app in the future
Sounds simple, right? Much like the rest of the React Native experience, it can be. But just like so much else, it's helpful to be shown how to do it.
That's what we'll be covering in this course - we'll take the app built in my free React Native course, expand on it, prepare it, and then send it off to the app store.
I won't lie to you - it can be a process. But once we've got things set up, managing it is a breeze.
Your Instructor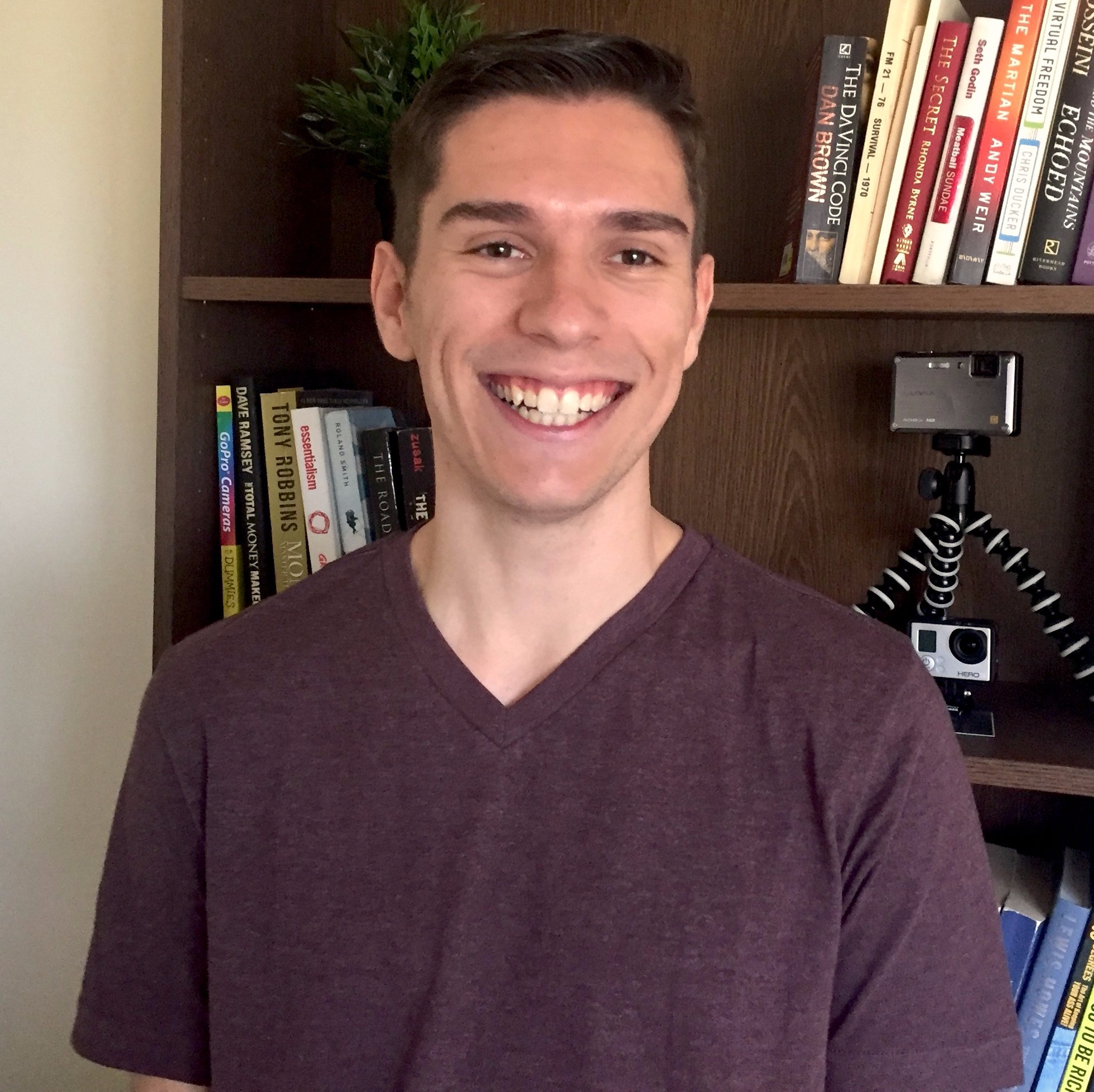 Spencer Carli
My name is Spencer and I've been using React Native since it was first open sourced by Facebook. I've put together dozens of React Native tutorials, multiple courses, and (most importantly) put React Native apps in the both the Apple app store and the Google play store.
I live in Nashville, Tennessee and teach people how to use React Native full-time. I've got two cats, a great office view, and I devour pizza.
What Are You Going to Learn?
So, what's covered in this course?
That's a good question!
In short, this course is all about taking a React Native app, preparing it for production, sending it off, and managing that app once it's in the wild. We'll also make sure the user has a great experience when using the app!
That means we'll cover
Application testing with Jest
Apple Development account and Google Play account set up
App production preparation (think icons, splash screens, etc.)
App uploading
Live app management (how to send updates)
Offline support for the app
A bit of fun with animations
Who is this course for?
It's for people who...
Have a React Native app and want to share it on the app store (iOS or Android)
Are comfortable developing React Native apps but want to learn the production side of things
Work at a company wanting to make sure they hit the right things before sending their app into the wild
Are patient - working with Apple and Google can, at times, be a frustring experience
This course is a continuation of my free beginner React Native course which teaches you all the prerequisite steps for this course. If you're ever lost that's a great place to refer back to - it's completely free!
The app built in that course will serve as the example throughout this course so if you're ever curious how something works - all the code is open source and video tutorials exist showing you how to build it!
What's the format?
This course will be a combination of video and text tutorials, leaning much more to the video side of things. That means I'll walk you through, step-by-step, how to do what I talk about. No skipping around, watch me run into and work through errors, and at a pace that will keep you interested.
Once you sign up for the course it's yours forever - use it as a reference any time you're running into an issue or just want a refresher. The course will be broken down into multiple modules meaning that you can easily jump back to a certain topic without searching through hours of video.
Curriculum
Module 1: Offline Support
To add offline support to our app we'll use redux-persist to cache data between sessions on the device, update the UI to indicate to the user what the connection status is, and notify them if data is outdated due to a lack of network connection.
Module 2: Animations
Flash Quote Currency Input when value changes
Animate Homepage Elements on App Load
To get more familiar with the animation library we'll add a few more animations to our application including
A "flash" to notify the user the conversion rate has change
Animate the elements of the homepage onto the screen
Module 3: Testing
Testing is a critical step to reduce bugs due to refactor and making sure you catch edge cases in your app. We'll cover how to set up Jest and use it to test the actions, components, reducers, and screens throughout the app.
Module 4: Production Release
Releating to production can be intimadating. Module 4 is dedicate to preparing your app for production, creating the necessary accounts, building it, and finally send it off for the world to see.
And we'll do so for both iOS and Android.
Module 5: Production Release Management
Shipping an app for the first time is only part of the story. In module 5 we'll cover tools and process to help you maintain that app once it's in your user's hands.
What Are We Building?
We'll be extending and shipping the currency converter app we built in the free predecessor to this course. However, the content in this course is applicable for any app!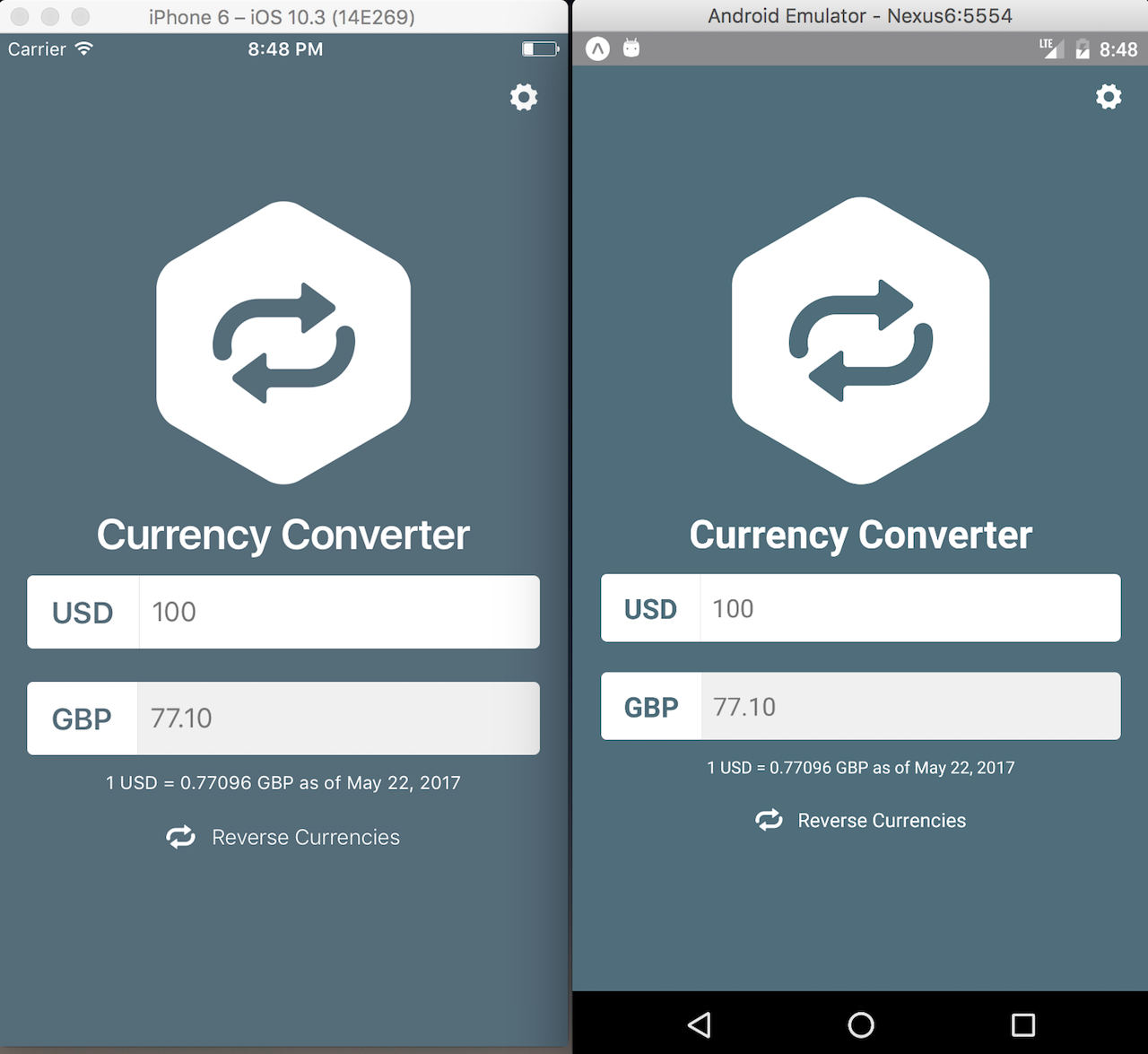 Pre-Order Today! [CLOSED]
What's a pre-order? Basically it means that you're purchasing the course before it's completed.
Why would you want to do this?
Well, the big thing is the 50% discount on the course over the final price!
Why do I do this? It allows me to directly communicate with students as the course progresses - making sure that the concepts are presented clearly and completely. In software terms, I like to bring together a group of beta-testers to help me make sure the course is A+. It's also a great way to cover the cost of the course development 😄
Now, this is a limited time deal - I only leave pre-ordering open for a week (until June 29, 2017). If you want early access make sure to do so today so you don't miss out!
Lastly, this is a zero-risk option. If at any point after you pre-order the course and you're not happy with the progress or it's not covering the topics you expected I'll refund you 100%.
If this sounds like something you would be interested in sign up! Otherwise feel free to wait for the final release.
Course Currently Closed
Interested in joining when it opens back up? Leave your email down below and I'll let you know as soon as it's open again, and send you some valuable React Native content until then.
This course is not open for enrollment.
Frequently Asked Questions
When does the course start and finish?
The course starts now and never ends! It is a completely self-paced online course - you decide when you start and when you finish.
How long do I have access to the course?
How does lifetime access sound? After enrolling, you have unlimited access to this course for as long as you like - across any and all devices you own.
What if I am unhappy with the course?
We would never want you to be unhappy! If you are unsatisfied with your purchase, contact us in the first 30 days and we will give you a full refund.
How do I know you're any good?
Best way to find out is by checking out my free course available at learn.handlebarlabs.com! Check out my teaching style and see if it works for you.
I'm already in the Handlebar Labs Slack team from another course - which package should I choose?
Since you're already a member of the community go ahead and choose the lower priced option - and thanks for being a part of it!